Payment Methods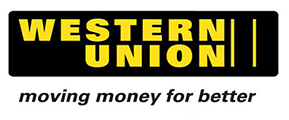 How can I use Western Union to pay?


Western Union is a convenient way to send money around the world through their local offices, banks that support Western Union, and online.


1. You should select Western Union payment method to place your order successfully.
2. Go to your local Western Union(website link :www.westernunion.com) branch to complete payment for your order. Make sure you have the following beneficiary details:
First name:JILI
Last name:LI
Address: City: HEFEI, State: ANHUI, Country: China
City: HEFEI
Province: ANHUI
Country: China
Zip code: 230000
3. Once you've completed payment, sign into your account to "Check Out".
4. Fill in your payment details and then we will begin processing your order once payment has been confirmed.
If you have any further questions regarding your order payment through Western Union, please email: aqauto@jacaqbp.com
We want every Western Union transaction to go smoothly for our customers, so please be sure to check the total payment amount with them first. aqbpauto.com cannot cover any handling fees added by local Western Union branches.

Your cart is currently empty.